What we do
Airport Ushers operates as a handling agent at O.R Tambo International Airport (JHB), Cape Town International Airport (CPT) and Durban International Airport (KSIA) and cater for the needs of the travel industry.
We offer an exclusive meet and greet service to clientele. We meet passengers off their flights and assist them to their applicable points, either to a coach, car rental, shuttle service or transferring them from one terminal to another for a connecting flight.
This service is available for groups, corporate and individual clients.
Documentation will be explained to groups or individual clients, and we assist them with travel queries. We contact the operator or agent if need be about any problems arising while we are still with your client/s.
Our objective is that our service at the airport will be so impressive that the marketing of your company will benefit by word of mouth.
Furthermore our personal objective is to provide a service at the airport that outshines any other airport service.
If you need a specific service or assistance to be provided to your clientele, please contact us with the relevant information, so that I can structure a quote for your needs.
Johannesburg

Informally known as Jozi, Joburg, or "The City of Gold",is the largest city in South Africa and one of the 50 largest urban areas in the world. It is the provincial capital and largest city of Gauteng, which is the wealthiest province in South Africa. The city is located in the mineral-rich Witwatersrand range of hills and is the centre of large-scale gold and diamond trade. It was one of the host cities of the official tournament of the 2010 FIFA World Cup.
Cape Town

The second most populous city in South Africa after Johannesburg and also the legislative capital of South Africa. Colloquially named the Mother City, it is the largest city of the Western Cape province and forms part of the City of Cape Town metropolitan municipality. The city is known for its harbour, for its natural setting in the Cape Floristic Region, and for landmarks such as Table Mountain and Cape Point. Cape Town is home to 64% of the Western Cape's population. The city was named the World Design Capital for 2014 by the International Council of Societies of Industrial Design.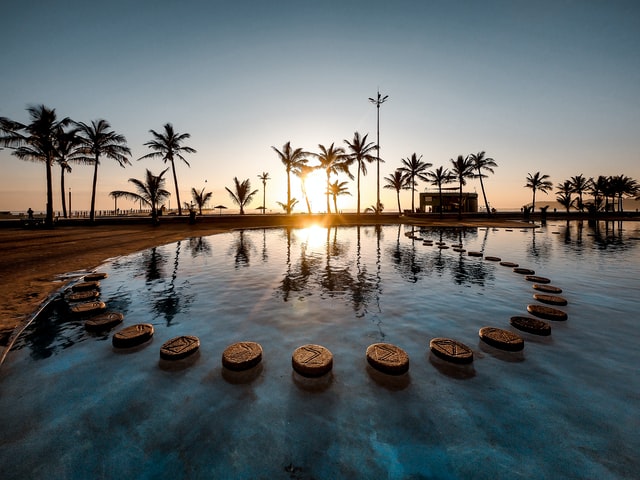 Durban

The third most populous city in South Africa after Johannesburg and Cape Town and the largest city in the South African province of KwaZulu-Natal. Located on the east coast of South Africa, Durban is the busiest port in the country. It is also one of the major centres of tourism because of the city's warm subtropical climate and extensive beaches. Durban forms part of the eThekwini Metropolitan Municipality, which includes neighboring towns and has a population of about 3.44 million, making the combined municipality one of the biggest cities on the Indian Ocean coast of the African continent.